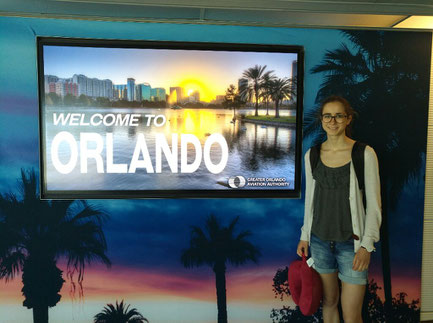 That is my very first blogpost. My time in the States begins soon.

I wanted to use this post to look back at the time, money, and effort it took to get to that point: to the official starting point.
The inofficial starting point began about a year ago while I was filling out a questionare form of the recruiting platform "scholarbook". I've known and heard about a couple of other athletes from Germany, who were able to continue their athletic career while stuying in the States.
So, I wanted to give it a try. Although I've never considered to study abroad.
After completing the form, I got invited to an interview with an employee of scholarbook, who would help me through the recruiting process. During the interview I realized:
Being a student-athlete in the States would definitely be a great opportunity!
I signed up for the two required tests for internation students in the States: the SAT and the toefl and prepared myself after I graduated from High School.
In addition, I created a video, in which I introduced myself and showed some content from competitions and practice, so that I could show coaches what I could do. I swear...editing this video took me hours!
Just a few days after scholarbook send out e-mails to coaches and posted my profile on their website I got contacted by the first coach. That was exciting!!! Every day I got excited checking my e-mail account. In total, I got about 30 offers from different colleges. However, the vast majority was not really what I was looking for.
I made a pro- and con-list for the remaining schools and started communicating with the different coaches via e-mail and skype.
 I already applied for a couple of schools, which is normal, as I learned during the process. I also had to translate my transcripts in order to apply.
There was a lot to organize, sign, and learn. It was tough and I always had to remind myself that all the effort will be worth it. I had to sign up and register with the NCAA in order make sure that I am eligible to compete in the US.
While I was still in contact with several coaches, two schools in Florida got my closer attention.
After taking the toef in August in Dortmund and the SAT in Berlin in December, the coaches were able to get me a better estimate of what my scholarship would look like.
Although I did pretty well on both tests, my two favorite schools were not able to offer me a sufficient scholarship, which was really frustrating and I already thought that was it.
I did not want to go to a school, from which I was not a 100% convinced just in order study in the States.
Two weeks later, I got a few more offers. Three universities seemed to be a perfect fit.
My parents and I decided that I should visit them before I would commit to study there for four years.
Therefore, we booked a last-minute flight at the end of March. That was the first time I would fly to the States.
Even though flying is quite expensive, I would recommend every international student to go on a visit before commiting. Pictures and skype calls can be so misleading! Better spend a little bit more money prior instead of dropping out during the semester because you do not feel comfortable.
This trip was really important to me and helped me to make my final decision.
First, I was not really sure if I want to make the big step and study so many miles away from home.
The culture is just so different. But, surprisingly, one morning I opened my e-mail account and send the coach an email: "I am verbally commiting to Stetson University!"
I got a response back simply saying "Awesome" and a summer training schedule with many, many running miles (more than I've ever ran before).
The preparations got more intense and the bureaucracy continued.
There were sooo many forms to fill out for the school, I had to look for a health insurance which also includes the US (which is not easy to find!) and I had to get some additional vaccinations. I also had to get a bank account statement proving that I have enough money to support myself. I also got my I-20 form which I needed in order to apply for my student F1-visa.
I had to make an appointment for an interview at the consulat in Frankfourt and got my visa a few days later in the mail.
 I was officially allowed to study in the States!
I already have my class schedule, the times and locations for the first meetings on campus, and my room number.

 Wow...I was not planning on writing so much for my first post.
So, for everyone asking: "What have you been up to all those days?"
I think this post explains it pretty good.