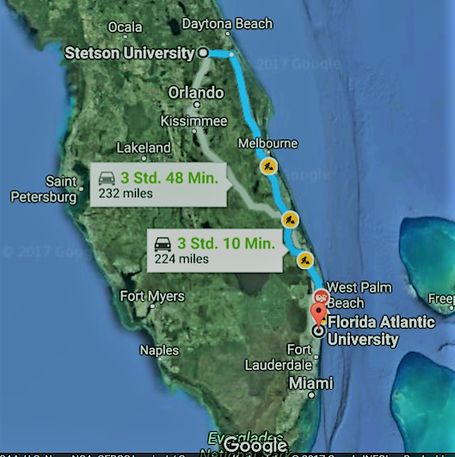 Today's labor day. So, no school for me and some time to share my experiences from my first XC race in the States.
.
 Friday, September 1st, I went straight from chemistry class to the team vans. Shortly after noon we hit the highway towards Boca Raton for the FAU Invitation. We did not specifically trained for this race. It was more of a fitnesstest to see where everyone is at.
The three and a half hour drive went by faster as anticipated. We got lunc at  Jimmy John´s, coache's favorite, and I am still impressed how my teammates were able to run after having a huge sandwich for lunch. My stomach would have definitely not agreed to that. I prefered my home-made quinoa salad.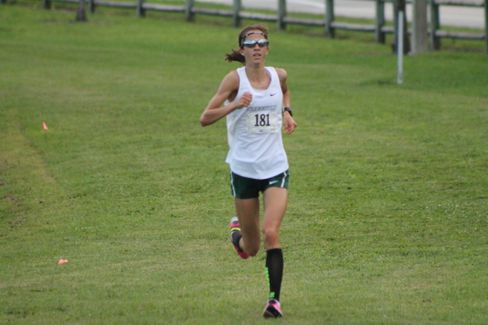 Once we arrived as the course, the heat hit me. 106 degrees! Fortunately, it cooled down a little bit towards our start at 6:30pm but the guys already needed to start at 6.
Therefore, we cut the warm-up short (I was already pretty warm!). MY legs did not feel a 100% fresh. Not a big surprise considering how many miles we've been running that week. I was really nervous toeing the starting line. Most girls looked so fast. And there were SO many girls. I've never been a race like that before. It was nothing compared to the road race I've done before. I was the only one running without spikes since I just had never been running in spikes before and felt more comfortable running in my flats.
Each school had it's own starting box assigned, we prayed with the time (which was really emotional) and then the race was on. We had to run a 2.5k loop two times with a short hill towards the end. The start was not as fast as I thought it would be. After 500m I was in 6th position and moved up three spots after 1k into 3rd place. I could not really believe that. Many parents from my teammates were cheering.
The last 2k were tough. The first two girls were far ahead, but I was able to safe the 3rd place with a time of 18:35min.
 I was overwhelmed and so happy.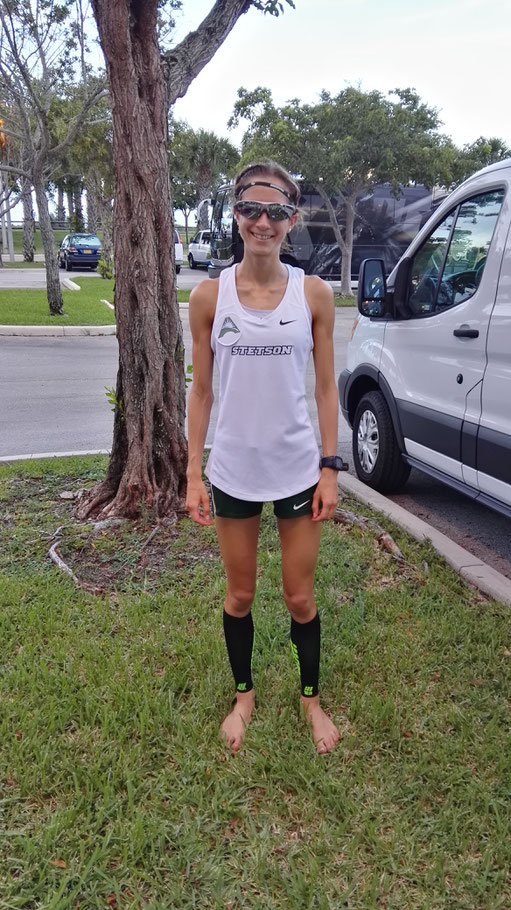 We finished 4th with the team.

The atmosphere among all runners was very welcoming! We congratualated one another and were happy about our race.
While wating in lane for the rest room a girl said I had a really good race and asked where I am from. I told her I am from Germany and she got really excited. Her sister studies in Germany. That's how our conversation started. Every day I see how open-minded and helpful the Americans are!
In addition, the team busses of other schools are so impressive! They have the team's logo on it and their very own, individual design. That shows how serious they take college athletics here!
Back to the competition:

After the cool-down we hit the road again and got dinenr at a fast food place (where else?!).
I was in bed by 2am.
The next day, I realized I set a new Freshman-5k school record for  Stetson University.

Here you can find an article about the competition.
http://www.gohatters.com/news/2017/9/1/cross-country-hatter-men-place-third-women-fourth-at-fau-invitational2.aspx
And the results:

http://www.gohatters.com/documents/2017/9/2//fauresults_women.pdf