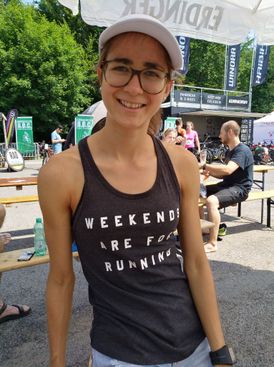 I just realized that it has been a while sicne my last blogpost.
The free time flies by.
Although it's not actually free time...I have so much to do!
I am logging my miles on the road as well as on the trails and work on my strength in the gym.
I am so motivated and mxed up the routine with two races.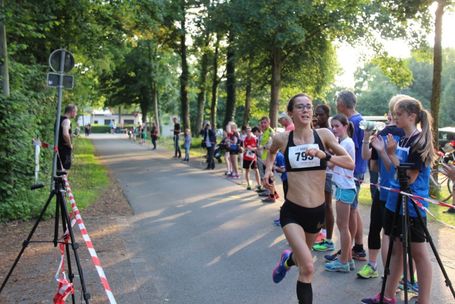 The decision to race in  Bentfeld  was really spontaneuos. I started over the 10k distance. In 2013
I did the 5k. It's crazy that this is already 5 years ago.
I cannot remember much from that only the fact that I won beer but they took it away for the picture sicne I was underaged. I guess no one was expecting that a 15-year old would win.
This year, I did not win beer....but I gained a lot of confidence.
The atmosphere at those small local races is always great. I love it. It was hot and many people on the start line complained about humidity. Well....they've probably never been to Florida.
The gun went off at 7pm and I ran the 10k really consistantly. I actually had a guy running with me until 6k.
The course was an out-and-back. So, I had many people cheer for me on the way back, which was so motivating!
Although I was out of breathe I managed to smile all the way.
I finished in 38:22min, 1st woman, and 5th overall.

The time was not really important to me since I haven't done any fast sessions in the last weeks but I am happy with a time under 39min. And I felt amazing!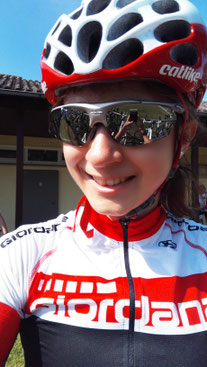 I also decided to take my bike out for a ride and participated in an organized, non-competitive, bike tour.
Longruns...on the one hand, I love them, on the other hand, they can be quite boring if I am running all by myself.
Therefore, I am always looking to mix things up.
Last week, I met up with my good friend Charleen. The 15k went by so fast and we were talking all the way.
But this weeks long run was something really special...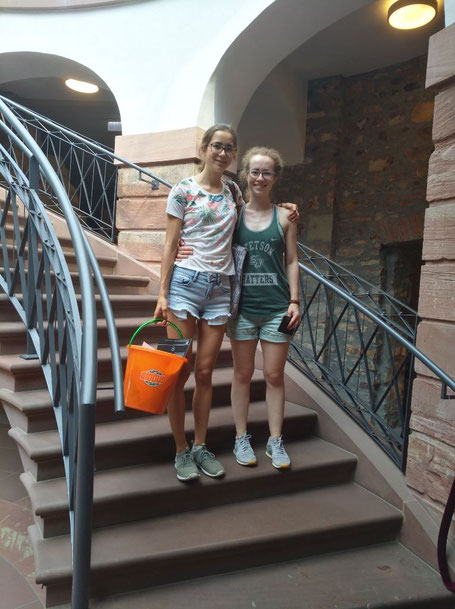 ... the Trailrun in Wiesbaden.
This race was in my calendar since a while and I was really excited, but I also had a lot of respect for the course since it had a bunch of elevation gain.
One day, I was bored and did not wanted to run by myself, I looked up trail runs and stumbled over this one. Wiesbaden? That's where my sister lives. 10th of June? That works. Sign up? Check.

Well, I looked at the profile after I signed up, which was probably not the smartest thing. 700m (2300ft) elevation gain!
After running at home and considering 820ft as relatively challenging, I was a little bit concerned.
I started the race with the intention: you can run as slowly as you want but you DO NOT walk. Never.
 I did not realized that this was already a challenge.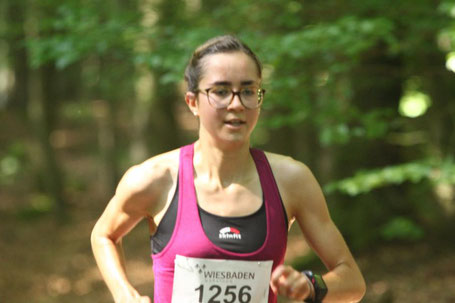 I travelled to Wiesbaden on Thursday.
I did an easy run on Friday and picked up my race package at the  Jagdschloss on the Wiesbadener Platte. The car already had to fight to get to the top of the montain.
Saturyday morning was raceday morning.
I started at 9:15am after the ultra- and marathon runners.
The first 7k were mostly downhill and I realized: I am a really bad downhill runner. Another woman took 200m of on just a single downhill! But, we had many more k today...
My mind was racing: "You are going out too fast! You gonna regret that!" and "I feel fine. I got this!"
As there was more and more uphill, I was able to pass more and more runners. The trails were nice, I got into my rhythm, and as I passed a guy at the 16k mark, he told me I was in 3rd place overall now. I couldn't believe that.
On a hill, that was straight 2k up, I passed the runner in 2nd place. As we reached the top, and ran down, he passed me saying: "Just run!" Wow...funny.
I passed him later on the last steep hill (15% incline!). He walked. I should have told him: "Just run!"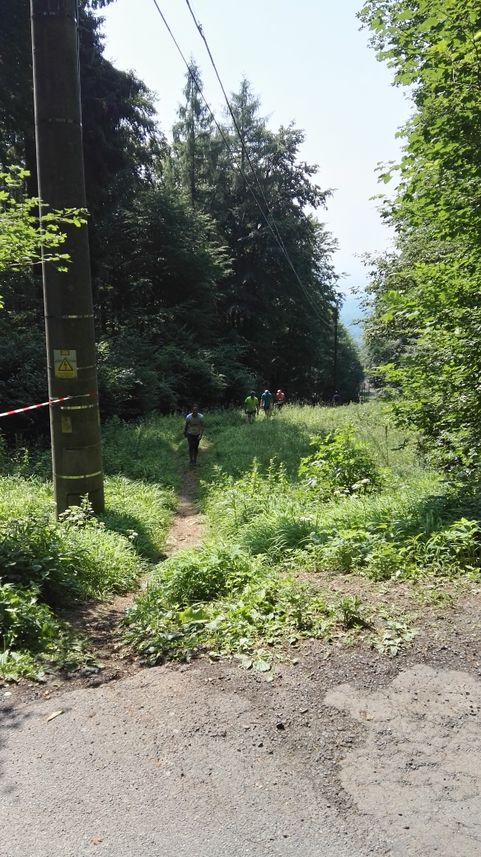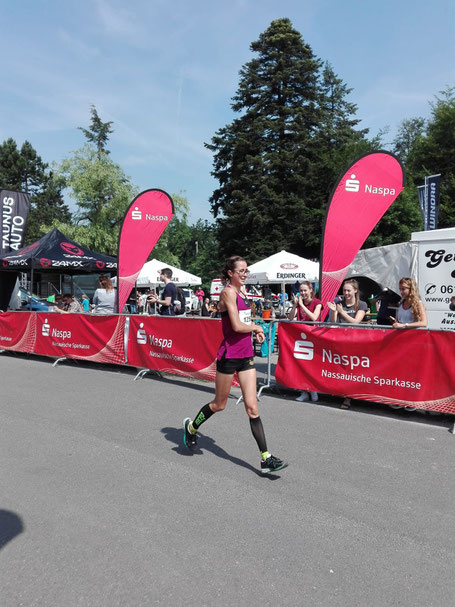 After 22.5k I finally crossed the finish line.
2300ft elevation gain, 1:44h of running, lactic acid in my legs, but an enormous good feeling!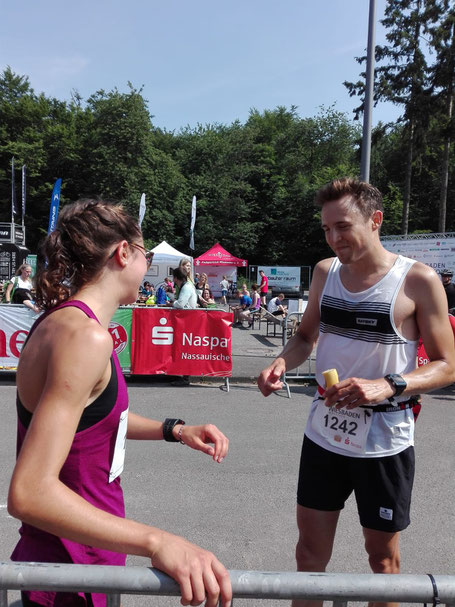 I got 2nd overall, and first female.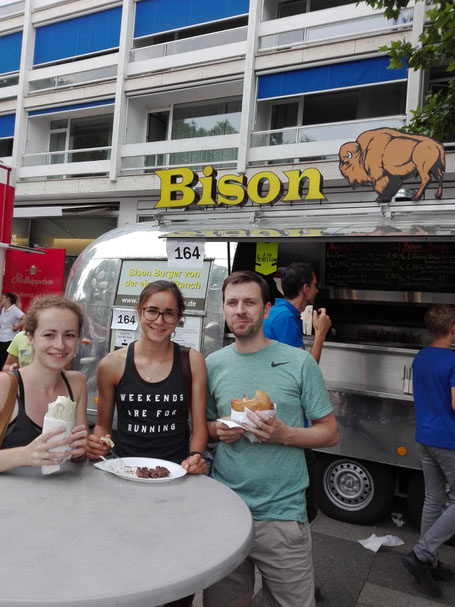 I finished up the great day with my mum, my sister, and her husband in Wiesbaden.
First time that I ate Bison meat. Really delicious.
I ran for those moments. Although the race was tough, probably the toughest one I've ever done, I did not question myself once. I enjoyed running just for fun without any pressure.
That's the reward for all those training miles.
If I'll lack motivation, I just have to look back at the Trailrun in Wiesbaden, and will, eventually, tie my shoes and go out for a run.