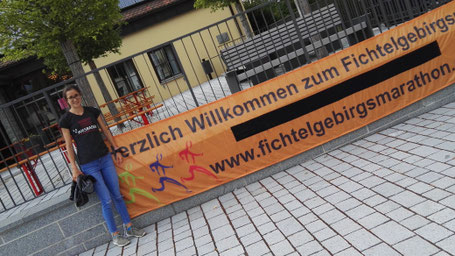 It's my last month at home before the semster starts again.
I spend this past weekend in Bavaria with my parents.
After a 6 hour drive we arrived in Waldersloh (a city I've haven't heard of before either), where we stayed for two nights in a really nice Airbnb.
Late in the evening, we drove to Bad Alexandersbad (another small twon without any exciting touristic attractions :D) to get my race bib. I would cross the finish line here the next day.
The start, however, was in Leupoldsdorf. My first race which was a point-to-point race.
Pretty cool. I was excited!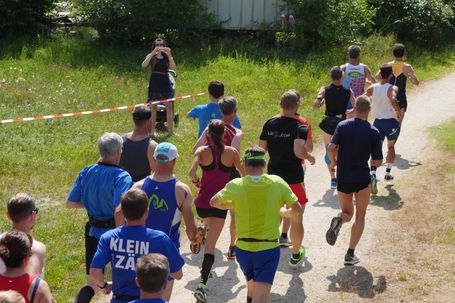 Saturday morning, my parents and I drove to the the start which was supposed to be at 11am.
The start of the halfmarathon was also the half mark of the marathon which was an out-and-back course.
Since the marathon started at 9am, we could cheer on the marathon runners as they passed our starting line.
I told myself: I only have to run have their distance! That won't be too bad.
Still, it was a halrf marathon.
As more and more runners passed by, I got eager to run myself.
The weather was perfect. I did not warm up since I wanted to use the first flat 3k as my warm up.
The start was alright but it took a while for the biker who was supposed to bike in ront of the first women to find me.
After the first 3k the hills started. Although there was no major steep hill, there was no flat part either.
The temperatures, however, were nice. Since the course was completely in the forest, we had a lot of shade.
I was running by myself but had three runners in sight distance in front of me.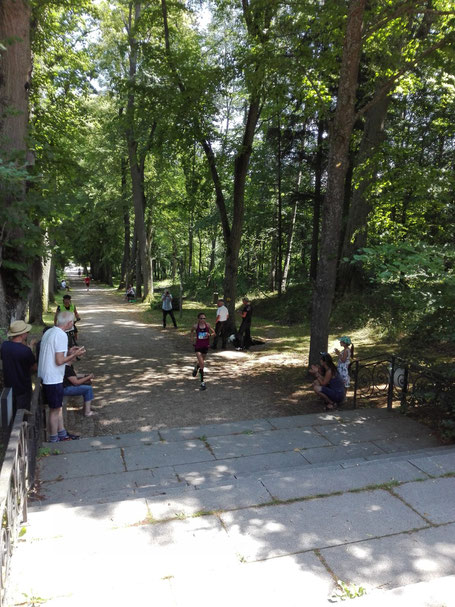 Kilometers 11 to 14 were rough. My legs felt heavy and I wasn't sure if I could finish the race.
The guy on the bike, however, told me "it will be flat at the top". That's, at least, what I understood. Tunred out he said "there will be a water station at the top" (I wasn't THAT exhausted to get so confused but both statements sound really similar in German).
Damn it.
There were water stations every 5k, which I did not really use, but there was no flat passage at all.
I was able to get myself back together and felt much better. The guy on the bike noticed: "You run uphill faster as you do downhill".
I wasn't sure if that's a good or bad thing though.
But it hold true. Iwas able to catch up to the  men runnig in front as we approached an incline but as soon as we reached the top, the pulled away again.
The course was more uphill towards the end, which was my advantage. I was able to pass all three guys. I had to battle one guy towards 2k to got. As I passed him, he passed me, and that repeated a couple of times.
I ended up finished 40sec ahead of him.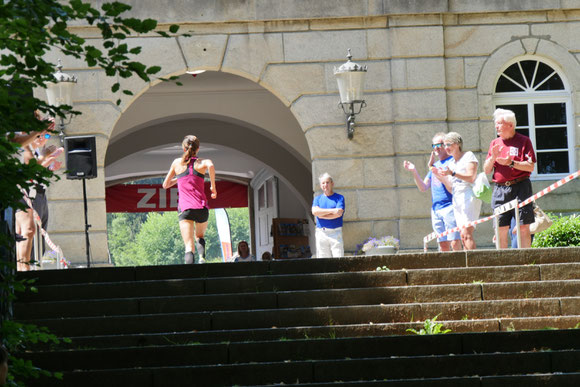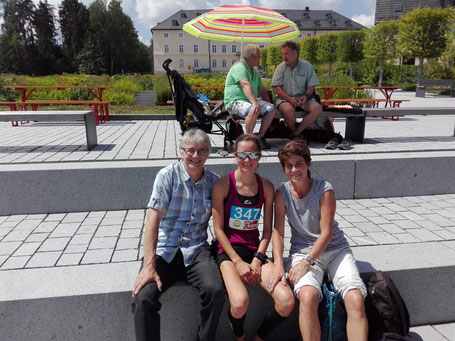 I crossed the fisnish line after 1:27:50h as 5th overall and first woman.
I was really happy!
And recovery started immediately:
1.) beer without alcohol
2.) ice-bath in the fountain
3.) cool-down walk
4.) free massage
5.) relaxing in bed while watching triathlon Hamburg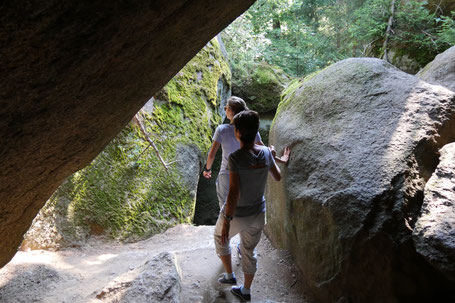 Before we traveled back on Sunday, we stopped in the
"cliff maze" in Luisenburg.
We walked and hiked arpund for 1:30h and my legs were dead but it was definitely worth it!
My mum complained: "That wasn't a maze! We did not get lost!"
 True, we did not get lost, but it was still much fun!!!
After a five hour drive back to my hometown, I went on an easy recovery jog followed by a nap on the couch.