Since I have a bit free time during Spring Break, I was able to type that recipe.
It's one of my favorite breakfast recipes.
Zucchini und Oatmeal?
Yeah, that may sound like an odd combo but you should definitely give it a try!
Believe me, you'll love it and won't even really taste the zucchini.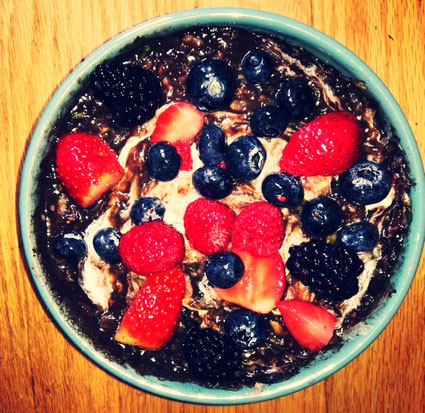 You need:

one zucchini
30g Oats (old-fashioned or quick, doesn't matter)

1/2 package (=20g) of sugar-free cook&serve jell-o

1 egg white

 5-10g// 1 tablespoon cacao powder

300-400mL water

1serving size of greek joghurt

+ Topping
1) Grate the zucchini (this can be done the day prior)

2) add all other ingredients except for the water
3) Stir!!!
4) Add water.
5) Microwave on high for 2x 3min (after first interval stir again).
6) Add topping and enjoy!!!