As mentioned in my previous blogpost, I found shelter by my friend Nina. Nina and I know each other from the good, old triathlontimes back home in Germany.
She also decided to pursue her athletic carrer in the States and chose to make Springfield, Missouri, her new home. There are five different universities and colleges and Missouri.
One of them is Drury University.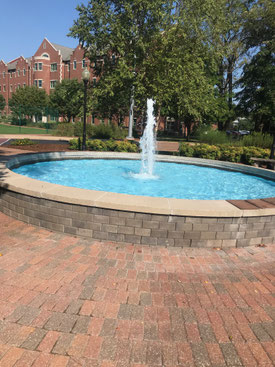 I have to admit that the new situation was overwhelming and I just wanted to be back in Deland but, at the end, the week went by way faster as previously anticipated.
Today  at 4pm I am going to fly back to Florida with a layover in Atlanta.
I found a pretty good routine those past days which is always helpful for me to cope with new situations.
In the morning, I either ran or went to the gym. Or I did both.
 After a good breakfast in Nina's apartment I went to the library to study.
I always found time to take a nap before I did a second workout in the afternoon.
Yes...I had a good time.
Since there isn't really much to do around here I didn't get distracted.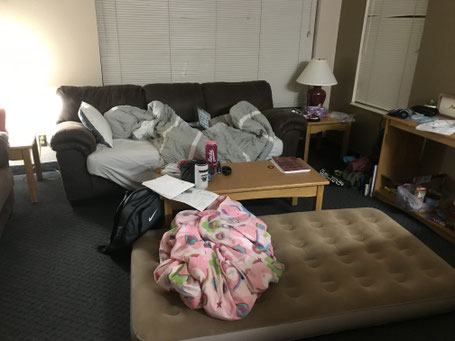 I slept/lived in an apartment on campus with the runner twins Claire and Katie, and two Ninas from Germany. That's actually pretty funny :D
After sleeping the first night on the blow up mattress on the floor, I decided that the couch was way more comfortable.
It was alright but I definitely miss my queen size bed!
Sleeping in the living room isn't the best spot when everyone has practice as 6am in the morning except for you...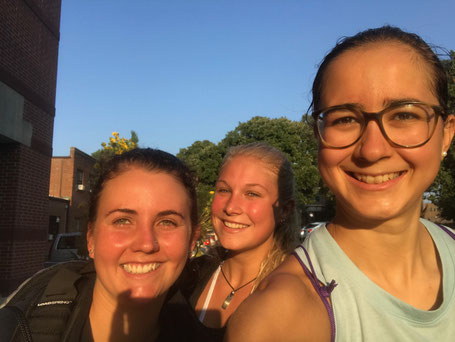 Due to NCAA rules I wasnÄt allowed to practice with the XC team but I was still able to do a workout on the track by myself. My first track workout this season.My first time back on the track since Florida Relays...
It was nothing exciting. Just a 5k tempo but it went way better as expected
The triathlon team was practicing at the same time. So, I wasn't completely by myself, which was a good motivation :)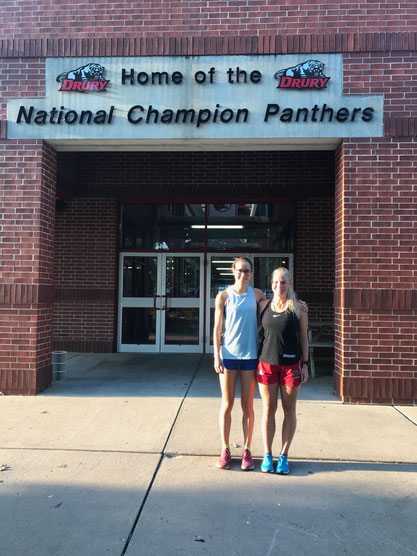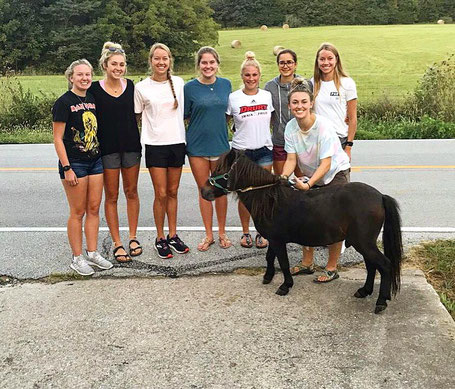 Yesterday night the family of one of the XC girls organized a pasta party since the team has its first race today. I was invited and had a great time.
Seems like a casual thing to walk your pony in Missouri.
Well, I like it!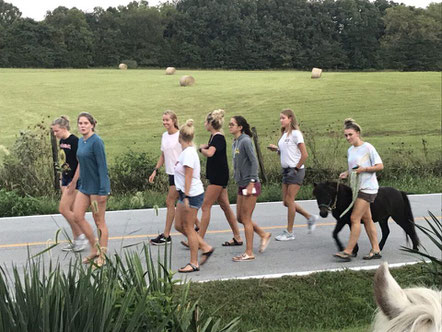 I really enjoyed those days. I needed a mental break. Getting to know new people, who just take you as your are, is so important. A simple nice word can have such a big impact.
An important thing I learned in that environment is the following:
It is NOT your fault when you are injured. It does not mean you're too weak but you just have to lsiten to your body and adjust your training accordingly.
And that's what I'm going to keep doing. I might not be able to runa s much as others do for now, but maybe I don't need to if I compensate with crosstraining.
We will see how it works out when I toe the starting line soon!