College Running is, let's just say, special: 2 days on the road, including 16 hours on the van, one night in a hotel for (spoiler) 18:26min total on the racecourse.

Wow. That's exactly 0.75%. Pretty efficient :D

Well, I guess it is my fault if I run that fast but it's Division I XC racing and not just a random easy run.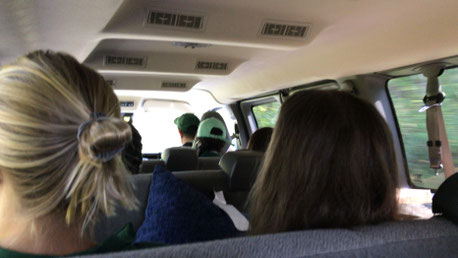 Eeveryone, who has read my previous posts, should be pretty familiar how traveling with the team works.
 We already took the exact same trip to Charlotte in Spring as we raced the UNC Invite on the track.
We left Deland Thursday morning and arrived in Blythewood, South Carolina, in the late afternoon.
Just the womens team was travelling this time since the guys are going to fly to a race in Louisville next weekend.

I honestly don't know why.
 Well, I would hvae preferred to travel by plane as well. Sitting in a van for such a long time isn't really comfortable. At least I got the back seat and had some leg space. Finding the balance of staying hydrated and not needing to pee for 3 hours is tough. I failed. I hoped we would stop but coach just kept driving. My hope disappeared with every gas station we passed. Fortunately, the tank of the vans aren't the best and we needed to stop for gas.
After 6 hours in total we made it to the hotel I was able to do some stretching and yoga before we left to go out for dinner: to the same place we went in Spring and I thought we would never ever come back to. Well, I was wrong. Shoutout to everyone, who can eat there the night before a race and can run fast without throwing up :D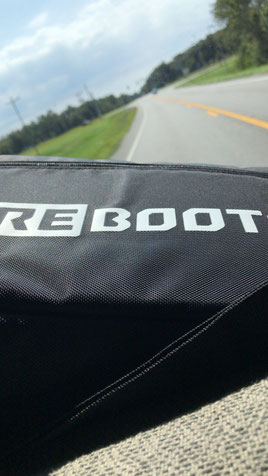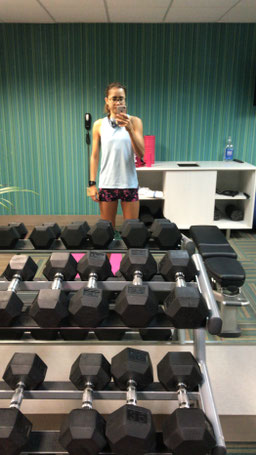 The next morning I did my usual Prerace Routine:

Stretching, 20min easy biking, a few mobility exercises, and some more stretching.

After eating breakfast, which I had prepared the previous day at home (since I'm not the biggest fan of american hotel breakfasts), we hit the road again.
We stopped for lunch at Panera Bread and got to the race course located at
the  McAlpine Creek Park in Charlotte.
Sounds way fancier than it actually is though :D
The weather, however, was armer as anticipated but not as humid as in Florida.

The time till the gun went off, went by fast, and I found myself toing the line wither 300 other girls at 7pm. Each team out of the 39 competing team had its own starting box. We got lucky with our box assignment number 5 since we were really close to the gravel when we had to merge from the gras onto the trail.
Teams starting from higher box numbers definitely had to run a few additional meters.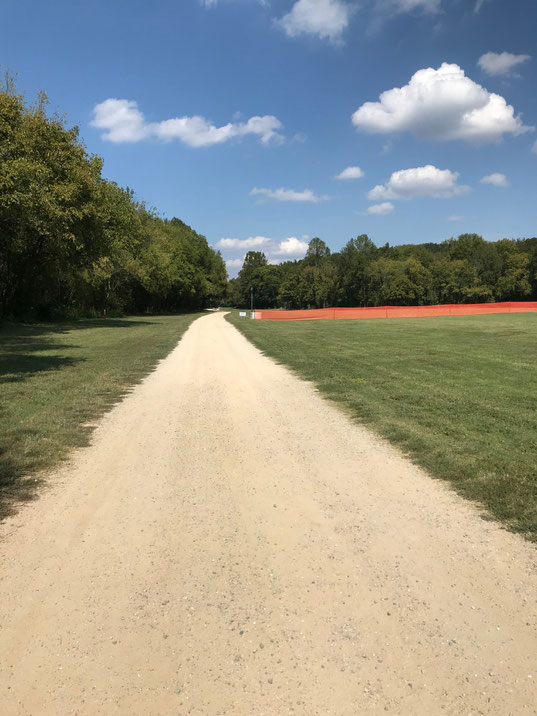 My race goal was to run by feel. Time wasn't that important but I wanted to give it my all. I missed a lot of summer miles and only had few faster workouts under my belt. Therefore, I had no idea what I was capable of right now.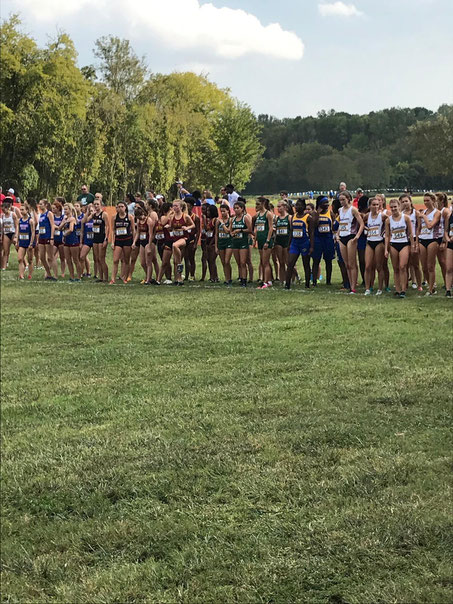 Despite the packed field, I had a good start and was able to pass girl after girl for the first 2.5k.
The leader wasn't even that far ahead and I felt really good.
I honestly though to myself how cool it would be to run into the top 3 or even win the race. Well, half way into the race it's too early to have thoughts like that.

I was in 4th place with 1k to go but had to pay for it.
The course was fast but I did not pay attention to my pace but that did not help me securing my position into the finish.
 I ended up finishing 9th place. So, I still got a Top 10 Finisher Shirt.
Finally, new clothes :D
Okay, just kidding. But I actually really like wearing finisher shirts. They are just so comfy.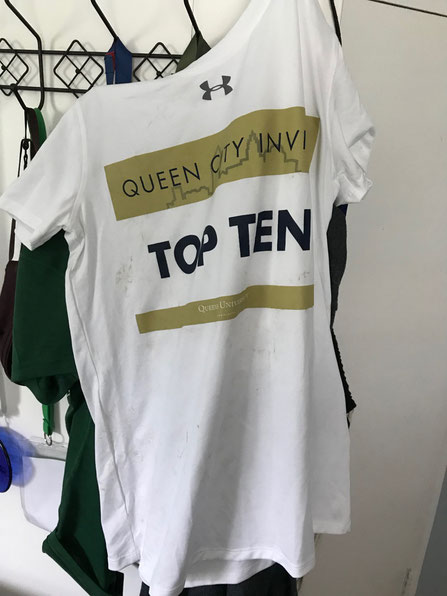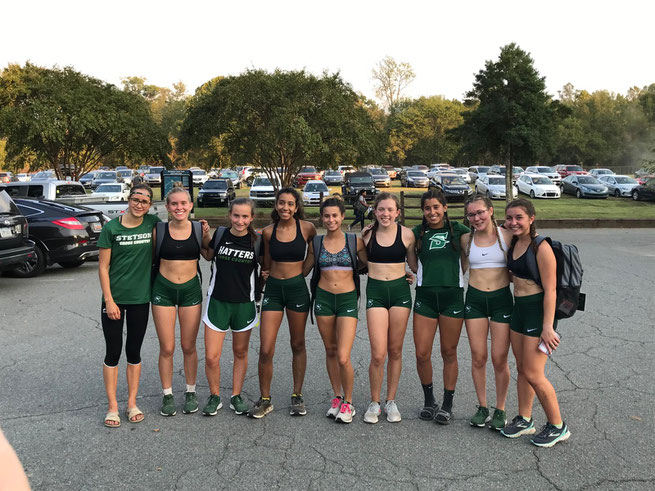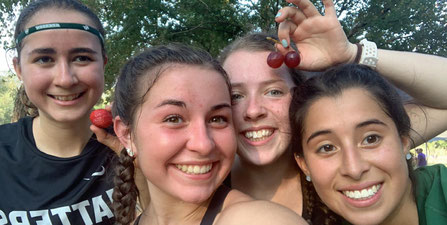 Some parents set up a buffet for us after the race. Thanks so much for that! You're awesome!!!
 After snacking we got back on the van and I was back at home at 2am. My back hurt and I was so happy to get out of the van without any shoch absorber.
On the way back I got so many encouraging messages on instagram and facebook. That means so mch to mean! Thank you!!!
I haven't realized how many follow my running, but getting all those messages motivates me so much to keep going. Success is so much greater when you have people you can share it with!
 As I came back to my room I almost started crying as I saw this: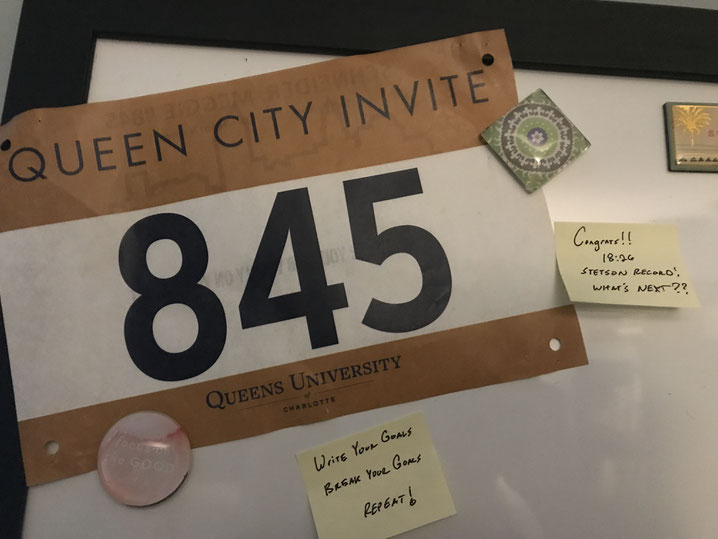 Next up: Florida State Invitational on 10/11.