It was that kind of week again: Raceweek. 5k at the FSU (Florida State University) Invite in Tallahasse on Friday morning.

 5k that show how fit you are,  how good your training has been, and how bad do you want it.
All of those I questioned.
Am I Fit?  I am not quite sure. Since the last race in Charlotte I have been feeling sluggish during all of my runs. On top of that, I got sick at the beginning of the week and had to take two days off. After a really poor  interval workout on Wednesday, I had no idea how to get through a 5k race.

Did I train smart? That depends on the definition. Quantitative? Oh, hell no. My weekly mileage is ridiculous since I am back at running after my six weeks off due to injury. In order to make up for it, at least to some degree, I try to focus on all those little things such as stretching, nutrition, hydration, and regeneration.

Keeping in mind: Better undertrained than overtrained.
How bad do I want it? We will see...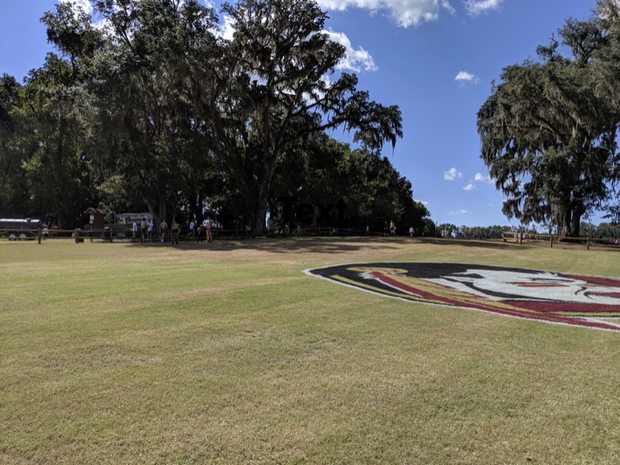 On Thursday we left campus at 10am with the van heading to   Tallahassee. All 8 girls were going on the trip (yes: we are down to 8...four girls quit).
I missed two exams that day, Physics and Anatomy, but you know athletics beats academics.

Or something close to that :D
We arrived at the Apalachee Regional State Park after about four hours of driving.
Nothing new for me since I have been running here for regionals last year.
We did an easy 5k jog on the course to get the legs loose from the drive...I also tried to get rid of my worries and anxiety concerning the race the upcoming day.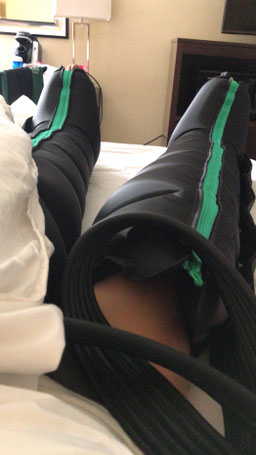 Afterwards, we checked in to the hotel and had time to shower, relax and, of course, using my reboots.
Coach ordered food directly to the hotel...so, I did not see any problem with putting on my pjamas at 4pm.
We got to bed early anyways since the race was supposed to start at 8:20am the next day.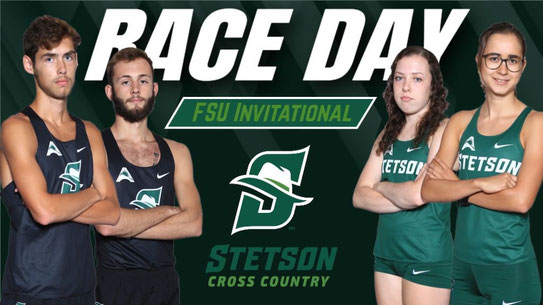 I woke up to the way to common wake-up sound of my phone at  5 am.
It was RACEday. I was so nervos. I felt sick to my stomach.
I could barely ctach a clear thought. Wow, that has not happened in a while.
Despite all that, I ate my usual banana and oatmeal and did my mobility routine.

We left the hotel at 6:30am to go to the course.
The time to warm up flew by and the weather felt nice: cold, but not too cold and not humid at all.
The little, annoying voice in my head did not care about that though. It kept on telling me that I won't make it.
As in the previous week, I decided not to race in spikes but run in my flats instead since half of the loop (which we ran two times) was on pretty hard surface.
The start, however, was a pretty nice down hill on grass. The backside of the loop had one "hill".
(Let's call it hill snce we are in Florida :D)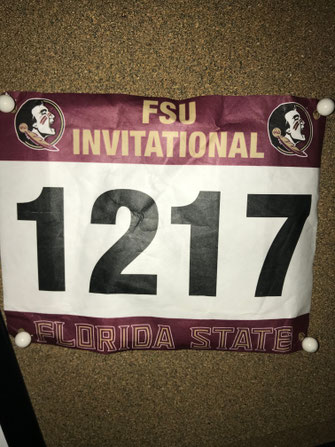 Coach told us not to focus on the time but to race people. A fast time would be the results.
I was not concerned about the time. I was simply concerned about getting through 5k without completely dying towards the end.
My entire body was shaking because I was so nervous. Coach told me to sit down after I have been walking around the tent for a couple of minutes.
Our assistant coach told us not to start out to fast since we have enough time during to catch people.
That's what I did. I started out pretty comfortable. Although some teammates were ahead of me I did not freak out.
And what did the scream after 300m into the race? "Meggie!!! You need to position yourself better!"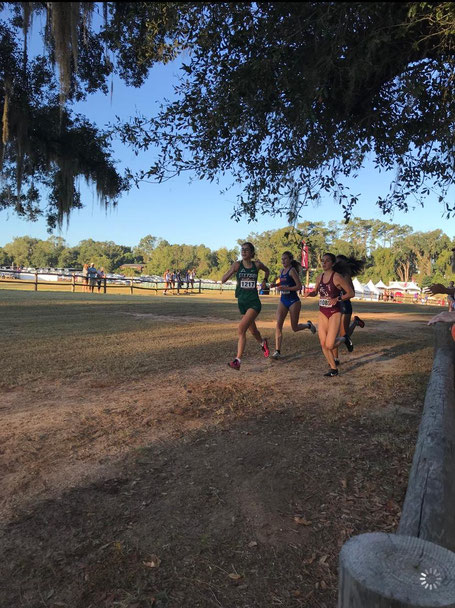 I caught people during the race and did not feel like I wwant to lay down on the side of the course :D That's a success!
Honestly, the race felt way better compared to Charlotte two weeks ago. At Charlotte, I had to constantly keep pushing although the course was flat.
Here, at FSU the course was a lot harder but I still managed to miss my PR by 3 sec and finished in 18:29min which was good for 28th  out of  220.

Although that picture might evoke the impression that it was only the four of us running :D
I was so relieved.
Just a day ago, I could not imagine myself running that race.
I learned another important lesson: I can run 18:30ish min even if I do not feeld my best or if I am not that prepared.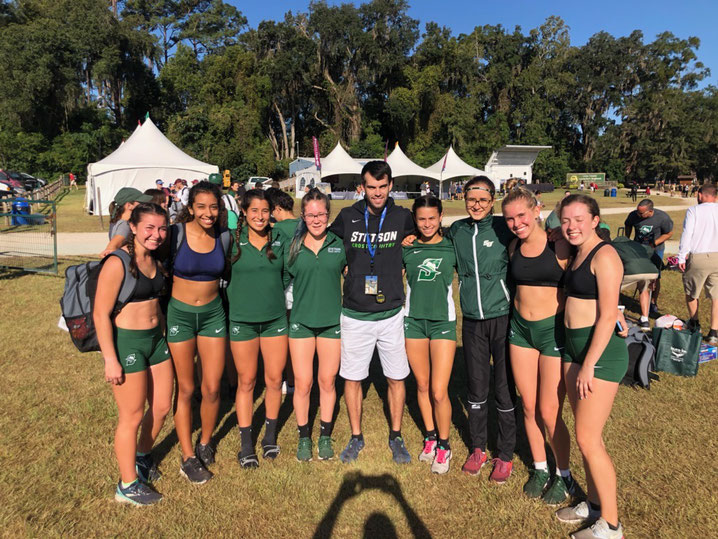 We finished as the 9th team overall. Some girls ran a PR. Congrats!!!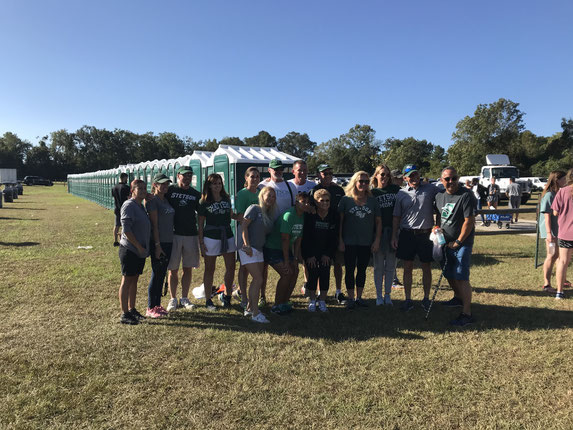 Thanks to the many parents travelling to all of our races, we had a huge breakfast buffett waiting for us.
That and all of your cheering was awesome.
Thank you so much!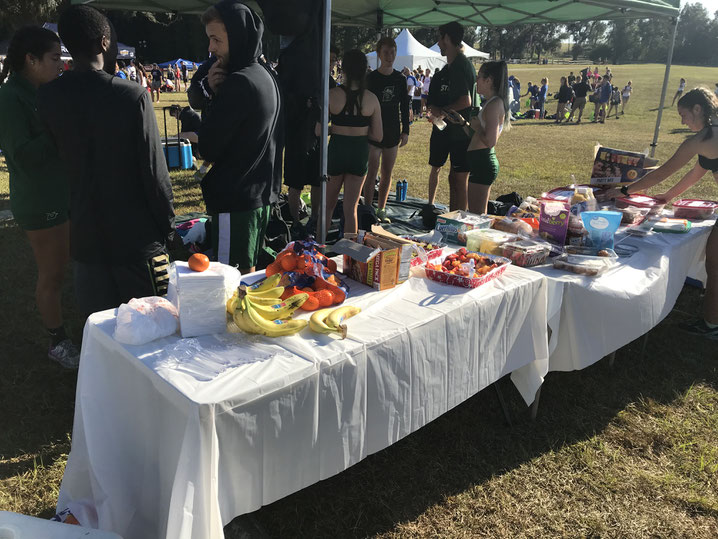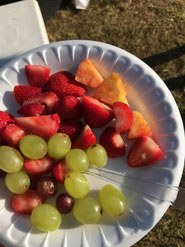 Before we drove back to Deland, we stopped by the hotel to take a quick shower.
The way back to campus was really unspectacular but being back when the sun was still up was something new :D

Chris picked me up which made me feel like a VIP but nobody wanted to do my laundry for me. Too bad.
Anyways, I was happy I could get an easy swim in :)
3 weeks to go till conference.
3 weeks to become fitter, train smart, and gain confidence.