It was that kind of week again: Raceweek! And not just any race week. It was

CONFERENCE week

The race we have been training for all summer,
the race we have been talking about the last weeks,
the race we marked in our calendars with many exclamation points.
Short: Conference is the race, where it counts, where every other runner you pass counts to put your school in the best spot possible. To beat as many other of the 8 others schools.

It is nice to run PRs and have good races during the season, but performing and being the fittest at that day is the ultimate goal.
In addition, the top 14 individual runners can earn "All Conference" honors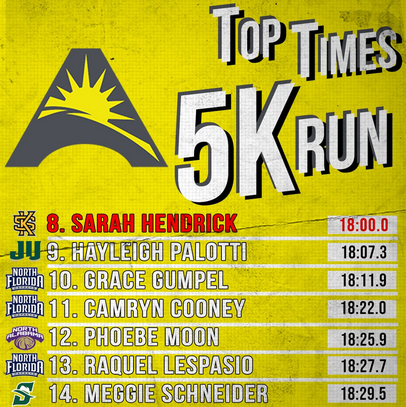 I definitely had my eyes on the price.
Going into the race my time from FSU three weeks ago ranked me on place 14.
However, rankings are just rankings and it matters how you perform the day of championships.
Since it was such an important race, we took a bus instead of the vans to Fort Myers and left two days prior to the race.
 Officially because it was conference and we wanted to have relaxed travels. Inofficially because it was Halloween and partying would not be the best race preparation.
 So, we left on Thursday, the 31st of October...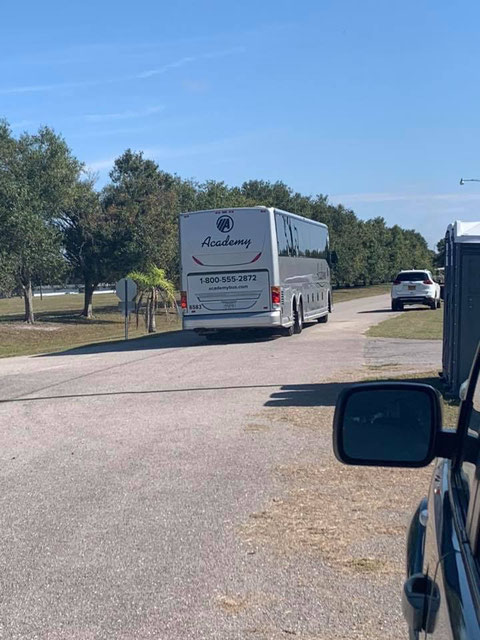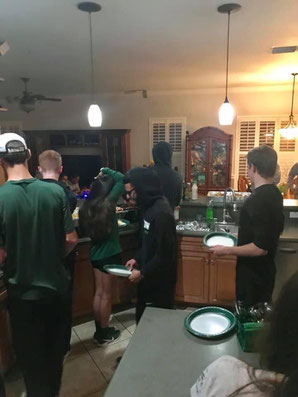 It was relaxed but just so late. We arrived at out hotel at 9:30pm, which is way past my bedtime :D.
Before we got there we stopped at a teammates house in Estero where his parents had prepared some pasta for us.
Thanks a lot for that!
I doubt many people would offer to have an entire, hungry Cross Country team over :D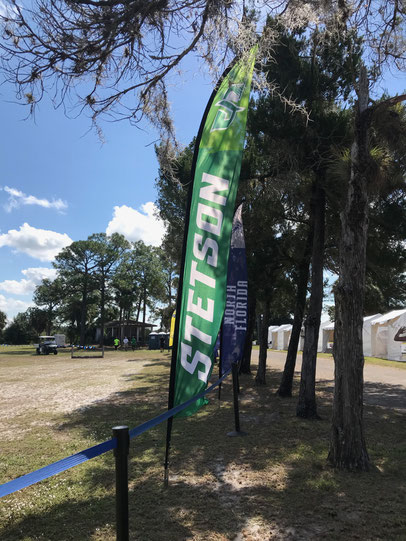 The next morning, we could not get earlier than 11:30am on the course.
Therefore, I did some yoga at the hotel and took my time to eat breakfast, which was actually pretty good for American breakfasts.
Once we arrived at the course, it was already hot. We ran the 5k course which is completely on gras.
Nothing exciting. Just flat and fast.
After a lunch stop we got back to the hotel, which I was not planning on leaving until the next morning.
The majority of my teammates went to watch a volleyball game (Stetson played FGCU) but I decided to stay and do some foam rolling and stretching.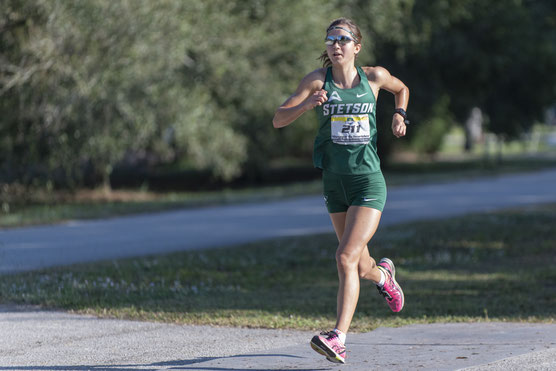 CONFERENCE day started bright and early at 5:30am.
I ate my usual banana-oatmeal and did some stretching. We departed from the hotel at 6:30am to go to the Buckingham Community Park since the guys race already started at 8:35am. So one hour prior to our race, which started exactly at 9:35am.

Perfect starttime for a race in Florida.
It was already 88 degrees.
Anyways, everyone had to suffer in the heat. Some more, some less but that is how it is. No excuses.
I had a pretty slow start but found myself in a good spot. The race started out fast and I could not keep up with the first group, which consisted of about 10 girls, after the first k.
There is not really much to tell about the race. It was hard.  I think I only got through it because of the many encouraging cheerings from the sideline. So many parents and Tara and Chris came to support us. That meant so much to me.
I battled myself today. I tried hard but had nothing more to give that day.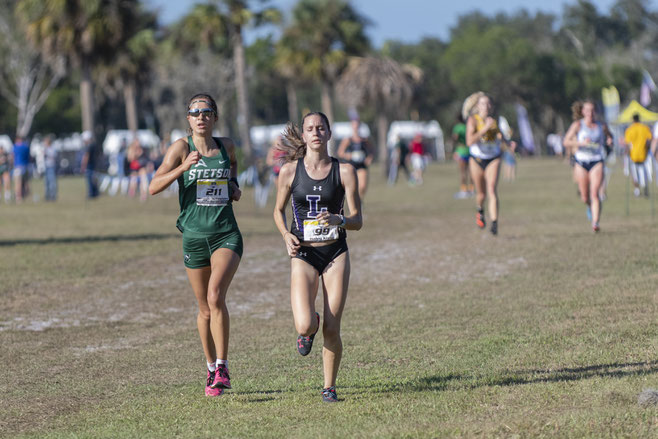 Many girls were ahead of me. That is why I expected a time of over 19min and was surprised that I still finished in 18:28min, which put me into 21st place.
20 girls were faster than me today. It is what it is. I cannot change it now, but I can decide how to walk away from it. I walk away with the willingness and determination to continue to work hard, so that I can be better next time.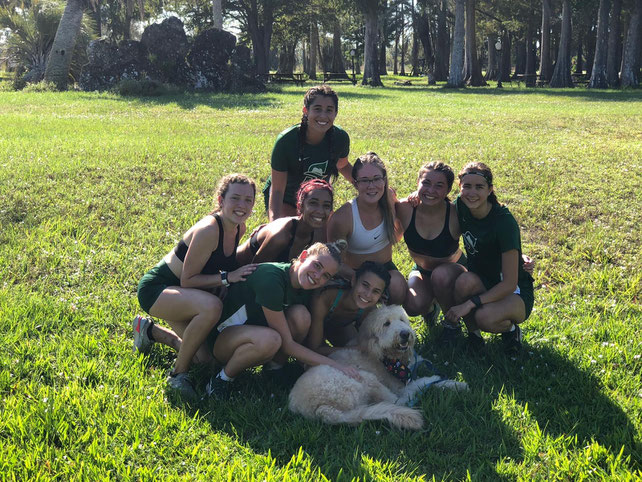 We finished 6th in the team raking, which is satisfying considering that we were ranked 8th pre conference.

After the race it has become a tradition this season that the parents set up a buffett for us which is really nice!
We were also able to go back to the hotel to take a really needed shower, before we hit the roads again to go back to Deland.
Thanks Jürgen for the running pictures!