My first recipe is posted!
Enjoy it for breakfast, lunch, or even dinner.
I absolutely love this one as a jump start into the day.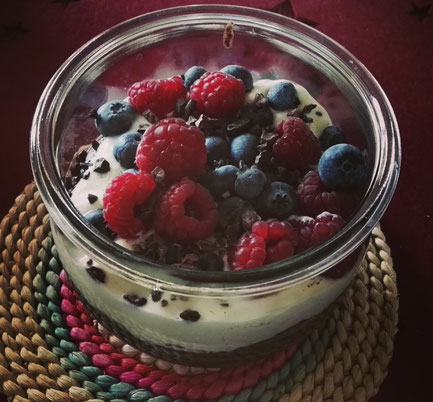 You need:
110g// 1/2 cups of chickpeas
10g// 2 teaspoon cacao powder
10g // 1 tablespoon coconut or almond flour
5g // 1/2 teaspoon baking powder
1 eggwhite
some almondmilk (any milk works though)


1) Blend the chickpeas. They should be mushy.
2) Add the egg white first and swirl.
3) Add the remaining ingredients.
4) Pour dough in microwave safe dish and put on high for 5min (or 25min in the oven).
I usually top my mugcake with Greek joghurt, cacao nibs, and berries (you can also add some berries into the dough).
If you're busy in the morning, you can prepare the dough the previous day and bake it the next day!